Tasting and Seeing the Goodness of the Lord –an interactive post!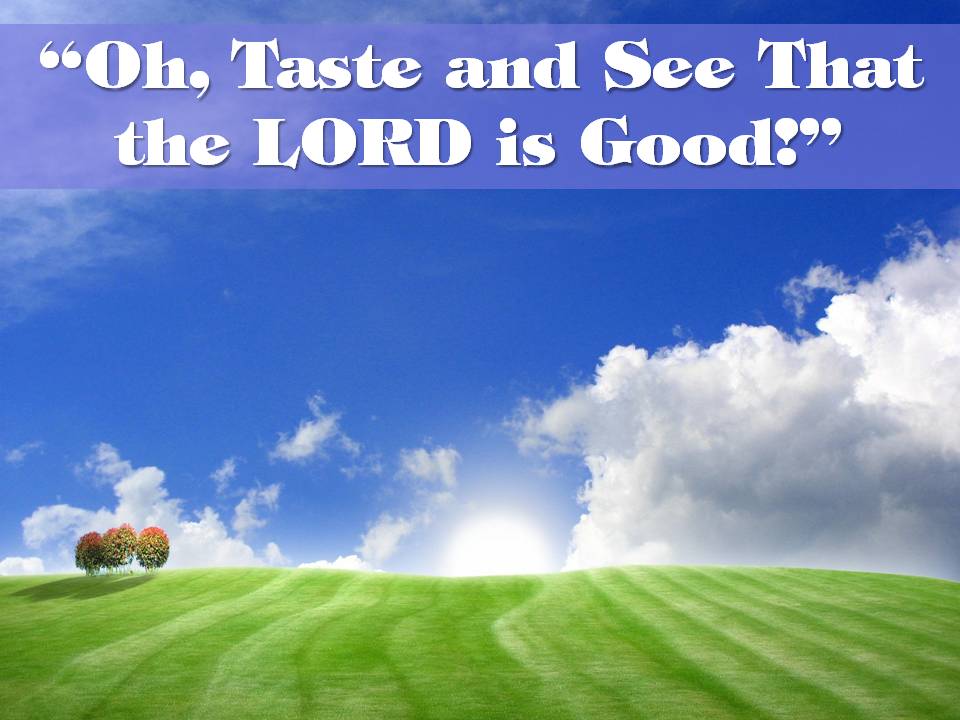 Psalm 34 is a one of those Psalms of David with a short historical introduction that has been preserved in the ancient text itself. We are told that it is "Of David. When he pretended to be insane before Abimelech, who drove him away, and he left."

The reference is to 1 Samuel 21 which tells a strange story from David's Robin Hood days when Saul was still king. David is fleeing the wrath of the insane Saul and persuades the priest Ahimelech to give the holy bread of the Presence to feed his hungry men. The priest agrees so long as David will vouch for the sexual purity of his marauders. David does so and the men are fed.

When some of Saul's spies hear what has happened, they organize a posse to capture David, and David flees, but not before he asks to Ahimelech if there's a sword he might borrow. Turns out that Ahimelech has been named custodian of the sword of Goliath, which, of course, David remembers well and which Ahimelech is glad to loan him, and off David goes. He heads to Gath, Philistine country, but is recognized as the one who had knocked off Goliath with one of five smooth stones he'd picked up from a dry creek bed. He's hauled before the King of Gath (in 1 Samuel identified as Achish), but feigns insanity and is released.

That's when he writes Psalm 34.

"O taste and see that the Lord is good," David sings in verse 8.

He had tasted the goodness of God is the bread of the Presence which kept him and his hungry men alive. He saw God's goodness in the sword of Goliath and a successful ruse to keep him out of a dungeon in the palace of the king of Gath.

God at work, God present, God guiding and protecting in and through whatever life brings our way.

"O taste and see that the Lord is good."

So how have you recently tasted or seen the goodness of the Lord? It may be in the beauty of an autumn day or the joy of friends and family. Maybe like David you have tasted and seen God's love in the oddest of circumstance.

So, here's your assignment: think of a "taste and see that that the Lord is good" experience you are willing to share with others. Briefly jot down or otherwise relay the particulars in a reply email (you may use the contact form), and periodically throughout the weekend, I will post responses here and forward the stories to the E-pistle mailing list.

All responses will remain completely anonymous. I reserve the right to edit responses for any reason I deem appropriate or not to pass on any particular story to the larger mailing list.

O taste and see that the Lord is good!
And here's some of what I heard:
O, taste and see that the Lord is good…

..we just took one of our grandchildren to the beach for his very first trip! He loved the water and the small waves in the Gulf of Mexico and we stayed longer than anticipated.

I see God's goodness in the support of friends and family through a difficult time; I "taste" God's goodness in his answers to our prayers.
God's Word sometimes speaks very loudly to me, as it has this week. So, I guess I also hear that the Lord is good!
As life's crises of the hour pull my thoughts away from God I am always amazed when I turn to look back; only then do I see He has been guiding and directing all along. God is good, all the time.
We had a surprise visit last night. At about 10:30 there was a knock on the door and it was our daughter. She goes to college out of town. She got a ride to Lancaster, took a train to Philadelphia and took another train to Langhorne. A friend picked her up at the station and brought her to our house. Her visit will be very short so we are enjoying every moment.
Can you smell that the Lord is good? The smell of fall was in the air today and it reminded me that God is good!
I "taste" God in all that touches my life. The "taste" takes away all fear and my natural desire to control things. Thus I "taste" freedom. With that freedom comes the courage to trust God in every thing I do.

We give thanks to you O God, We give thanks. Your wondrous works declare you name is near.
Psalm 75 was so perfectly demonstrated this morning, while enjoying a perfect fall day, sharing breakfast with my beautiful wife, and having Beethoven's fourth piano concerto playing and touching our hearts as we spent the morning together. It is a preview of heaven.
This week I have seen that the Lord is good- I am encouraged by the Christian organization at my school. Today is our school's organized event to go into different parts of town for recreation. But 17 people through the Christian Fellowship are using this opportunity to do yard work and basement cleaning at a battered women's shelter in town. Even though my busy schedule has demanded I be less involved this semester, I am encouraged to see new and old people step up even more and push the group to live even more authentically than before.
"O taste and see that the Lord is Good"
is a picture I have in my kitchen. When I look back over the last several years, I remember making meals for others… I remember many people in and out of my kitchen. I like to feed people, but there times when I was ill and we were being fed by friends and loved ones, bringing meals, fellowship, encouragement and Love. I realized that if I had said
"

No

"
to them then I would have stopped all of the Blessings that occurred.